I've been inspired by my friend Lucy to start posting some of my favorite things on Fridays. I've been loving her posts because I love seeing what products other women are enjoying and what's rocking their world these days. Also, posting every Friday will keep me from taking another months-long hiatus from blogging. So, here are five things that are making life a little sweeter for me this week:
Philosophy Purity Made Simple Facial Cleanser
Aside from the iffy theology on the bottle, this is a product I can get excited about. This face wash was on my wish list for a LONG time. At $23 a bottle, I was hesitant to try it. I finally asked for it for Christmas this year and Santa Clause heard my wish. I've been using it since January and I love it. It smells amazing, it really does remove my makeup, and it contains essential oils so my face doesn't get stripped. I still battle oily skin, but that's genetic for me. After several months of use, I'm not even halfway through the bottle because you only need about a dime-sized drop to get the job done. That justifies the price since I would've already been through a $10 drug store brand twice in that time span. You can order it here or, if you have an Ulta in your neck of the woods, they carry Philosophy products. You'll probably hear more from me about their perfumes in another Friday post.
Silent car rides
I've started riding to work in silence consistently and it's been helpful. It's so important to intentionally make time to cut out the noise, especially for an introvert like me. I've been praying and just asking the Lord to speak in that time. I want that to be a time where He and I get together and just breathe for a minute. I haven't heard anything profound, but it's a good discipline. And I did get this breathtaking sunrise to behold. (Pictures don't do it justice)
Bath & Body Works Lemon Mint Leaf Scented Candle
Ya'll. Now that I'm forever out of college dorm rooms, I am rediscovering my love of scented candles. Never underestimate the power of scent. My roommate and I like to switch up scents seasonally, because we're girls. This is my absolute favorite candle for spring. I find that Bath & Body Works candles are some of the only candles that truly fill a room with their scent. I can light this little baby in my room and my roommate smells it all the way across our apartment. I love the fresh, light, clean scent of lemon. The mint leaf has a special place in my heart too. From ages 4-11, we lived on a dead end street surrounded by old people. My brother and I were straight up the only kids in our neighborhood. We made friends with our neighbors, Ms. Frankie and Mr. Virgil, who had a big garden. We would go over and help them shuck peas. Ms. Frankie grew mint leaves by her back steps and she would let us pluck them and chew on them or take them home to put in our tea at supper. That smell takes me right back to springtime as a kid, when life was slower and simpler.
Budgeting
After about a year of budgeting my money kinda-sorta oh but I can buy this dress it's fine oh wait why don't I have any money ever, I got fed up. I was paying my bills every month but I had no confidence in my budget. Numbers give me major anxiety so I kept putting it off until a light came on in my head thanks to this post at View Along the Way. Budgeting = freedom, ya'll! I may do a separate post on this but suffice it to say, I asked people who were good with numbers to help me and ended up with an Excel template that breaks my budget down by paycheck. I can see at a glance where every dollar is going to go. I don't have to look at my bank account and go, "How did that number get so small AM I EVER GOING TO EAT AGAIN?!" I know exactly what I can spend and because it's laid out in black and white (or multi-colors because even budgeting is a place for purple font), I don't spend more.
My new Katie Daisy print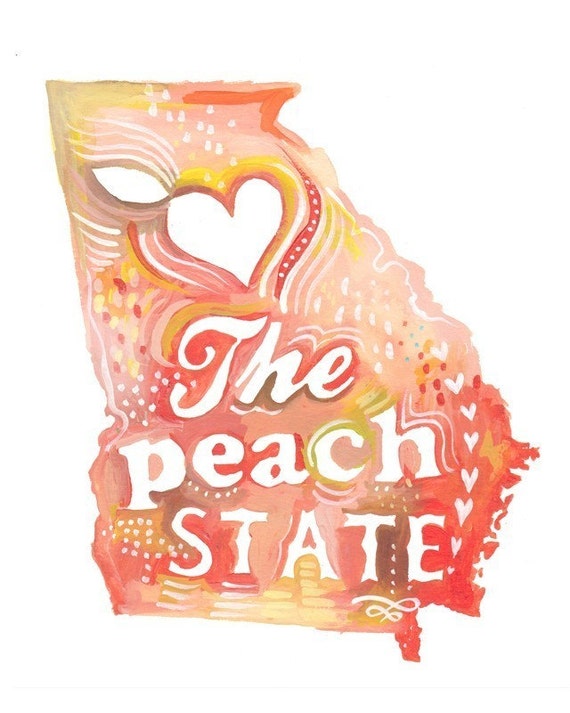 Speaking of budgeting, this beauty was my miscellaneous category this week. I've been searching for a Georgia print for my collage wall (pictured below) for months and I finally settled on this one. I LOVE the colors. I actually love everything in her shop. And it looks so good in my ever-growing collage! The antique keys are from my grandparents' houses. The mirror and gold frame are Goodwill finds. I love this wall because I can keep adding to it without having to worry about things looking uniform.
Those are my Friday Favorites! I'd love to hear yours :)